DJ Sounds Unlimited utilizes only experienced professionals that know how to make key life events successful and fun. We combine our 23 years of experience with your individual needs to provide a customized entertainment experience for all types of events.
Who owns and operates the show?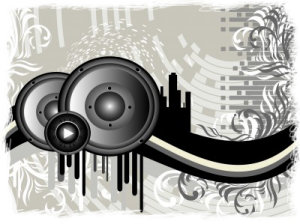 DJ Sounds Unlimited is owned and operated by Dieter Jenich. He has a passion for music and entertaining guests. Since DJ Sounds Unlimited inception they have performed at 4,782 parties and still growing.
DJ Sounds Unlimited has a forever-expanding music library ranging from the 50's to today's hot hits. We can also locatethose hard to find treasured songs. Our professional equipment is annually updated and our systems have integrated back ups.
Thinking of hiring a D.J.?
When you hire DJ Sounds Unlimited you get an interactive DJ who will not only play your requests but will supply you with a professional sound system taking us above and beyond the competition with a crisp, clear sound that is not ear piercing, distorted or muffled. We only use a bi-amped system, which include a separate bass speaker system to give that bass punch. All of our shows are bi-amped at no extra charge. Our systems come with wireless microphones to make it easier for you to communicate with your guests if needed and for the DJ/MC to be involved. We will also provide you with interactive DJ lights so we can set the mood for any occasion.
Here at DJ Sounds Unlimited it is our mission is to have all of your guests dancing on the dance floor having the times of their lives. We will help encourage your guests to dance and join in with things like the Cha, Cha slide, Cotton Eyed Joe, Electric slide….ect. We can teach all of your guest these dances and many more. If your guests still need some more motivation we have a variety of interactive games and contests to light a fire under the feet of those hard to move guests. It is proven that more people dance with a little professional encouragement.
Party novelties available
To complete your event we offer a full line up of party novelties to help with your party and interaction. Party props are known to turn adults into kids and kids into stars. Please browse our full line up of novelty products to brighten your affair.
Here at DJ Sounds Unlimited we will meet with any client whether it's my place, yours, or even the location of the event to help make your planning and decision making easier. Dieter Jenich, the owner, personally meets with clients by appointment only.
DJ Sounds Unlimited is not a DJ factory but a refined, experienced, professional company that knows how to have fun and it shows time and time again. Whether your planning your Wedding or your Daughter's Sweet 16. DJ Sounds Unlimited has the experience for all types of events.
So contact DJ Sounds Unlimited at (845) 278-7475 for a free consultation regarding your upcoming event and let us help you to get your party started!


SERVICING THE FOLLOWING COUNTIES & Cities:
Westchester County, Dutchess County, Fairfield County, Putnam County, Rockland County
Danbury CT, Kingston NY, Mahopac, NY, New Rochelle NY, Poughkeepsie NY, White Plains NY,
& Beyond.
FULLY INSURED.
Proud member of N.A.M.E. – National Association of Mobile Entertainers