Time to celebrate that special Birthday, 21 and older for this page.
No matter how old you will be turning finding great entertainment for that special party will make or break the event. Whether you're turning 21, 30, 40, 50, 60 or 100 it's time for friends and family to come together and celebrate. Most adult birthday parties usually have a wide range of ages attending however some are geared for friends and friends only.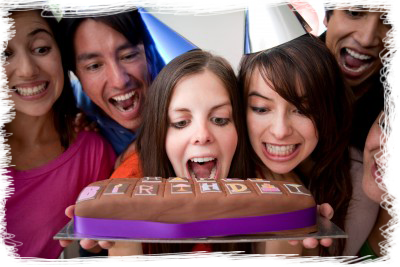 Whether you're planning a party for yourself or giving a surprise to that special person, birthdays should be fun. Of course you'll see your new and old friends, family and maybe even neighbors but soon it's time to GET DOWN and party. You'll want to have an experienced professional with the knowledge of entertaining your guests. Great sounding music is always a great start to the event, add some lights and now your ready to have a good party. How about you kick it up a notch with some great entertainment, group involvement or games to take the event to the next level. How about some trivia from the year you were born? Games with Hula-Hoops, Golf balls or even Plungers to make things interesting. You only hit that age once and you should have a great time.
Music is important and everyone has different musical tastes. Feel free to look at our top 200 list for some good ideas. Don't see your favorite songs that are needed, no fret since we come with over 10,000 songs to each event. Music from the 40's to what is hot today and everything in between. You can submit a request list so your favorite songs are played and your guests can make as many requests as they desire. The rules are however you must dance to your requests. Don't want to make a list, don't worry we've been doing this for years and know what to play and importantly know how to read a crowd.
What do we bring to the party?
We will bring experience, professionalism and a top notch Sound system to your event and even include an LED light show. Do you need a wireless mic for a toast or roast? We've got a great wireless mic for any speeches that may be given during the event.
Party Props
Need party props to keep the children occupied or just to add some excitement? How about some black Gangster Hats and black sunglasses to become the Blues Brothers or our flashing shot glasses and lighted Martini Shakers. Check out our full line of party props to help brighten your affair.
Contact me today to get an exact price quote for your Birthday Party or set up a non-obligation meeting to discuss your event in more detail. Prices do vary depending what is desired from our clients. We will provide you with an experienced professional entertainer (more that just a DJ), lights and a good time for all.
Let's Get Your Party Started!!
With your input and our talent it will sure to be a memorable event for you, your family and your guest.
SERVING:
Dutchess County, Fairfield County, Putnam County, Rockland County, Westchester County & Beyond. FULLY INSURED. Proud member of N.A.M.E.