Congratulations are in order for hitting a milestone in your life!
What are anniversaries?
Anniversaries are time to honor a special couple who are truly in love. Whether it's your 5th, 10th, 25th or 50th Anniversary it's time to celebrate with your friends and family. Some of these guests were probably at your original wedding reception. Many anniversary parties are surprises so mum is the word. So what happens at an Anniversary party? Anything you want! Usually the anniversary couple will have a first dance to their original Wedding song, a toast will traditionally be given by the host(s) or the original best man can do it all over again. Then lets cut that cake again to bring back those memories from long ago. Anniversaries are like a low keyed and informal wedding reception. That doesn't mean the entertainment has to be low key. We will keep your event flowing from start to finish and bring back all those memories from your special day.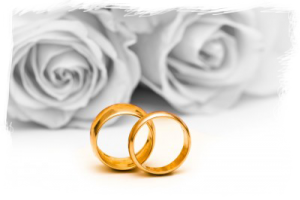 Music is a big part of creating memories and we will take the time to research all those popular songs from when you were married to make your event even more memorable.
For example most popular wedding song from:
2005 – Alan Jackson-Remember When
2000 – Lonestar-Amazed.
1995 – All-4 One-I Swear.
1990 – Stevie B-Because I love You.
1985 – Madonna-Crazy For You.
1980 – Billy Joel-Just The Way You Are.
1975 – The Stylistics-You Make Me Feel Brand New.
1970 – Carpenters-We've Only Just Begun.
1965 – Bobby Vinton-There! I've Said It Again.
1960 – Percy Faith-The Theme From "A Summer Place".
Most popular dancing songs in:
2005 – Usher-Yeah!, Missy Elliot-Lose Control and Kanye West-Gold Digger.
2000 – Destiny's Child-Independent Women, Sisqo-Thong Song and NSYNC-Bye Bye Bye.
1995 – Montell Jordan-This Is How We Do It, Real McCoy-Run Away and Shaggy-Boombastic.
1990 – Madonna-Vogue, Vanilla Ice-Ice Ice Baby and Technotronic-Pump Up The Jam.
1985 – Phil Collins-Sussudio, Madonna-Material Girl, Prince-Raspberry Beret.
1980 – Lipps, Inc-Funkytown, Queen-Another One Bites The Dust and The S.O.S. Band-Take Your Time (Do It Right).
1975 – KC & The Sunshine Band-That's The Way (I Like It), LaBelle-Lady Marmalade and Barry White-You're The First, The Last, My Everything.
1970 – The Jackson 5- ABC, Diana Ross-Ain't No Mountain High Enough and Norman Greenbaum-Spirit In The Sky.
1965 – The Rolling Stones-(I Can't Get No) Satisfaction, Sam The Sham & The Pharaohs-Wooly Bully and James Brown-I Got You (I Feel Good).
1960 – Chubby Checker-The Twist, Bobby Darin-Mack The Knife and Danny & The Juniors-At The Hop.
We do our homework!!
At DJ Sounds Unlimited we do our homework and it shows. That is what professionals do. This type of affair is a milestone in your life and we want each party to be memorable. Then lets add some mood lighting to your event to make the dance floor come alive with excitement. Let the DJ/MC lead you in the Electric Slide or how about a Conga line. We wont just play the song but do the dance with you and teach various new dances that you may not be familiar with. Not looking for that type of stuff at your event then no problem. Attention to all of your details is what we strive to do.
Our Motto
Our motto is "Quality Service Everywhere, Everytime." I will bring my experience, professionalism and an Elite professional Sound system to your event and even include a light show. Do you need a wireless mic for a toast or roast? I've got a great wireless mic for any speeches that may be given during the event. Then let's cut the cake once again and feed each other. Were you nice on your Wedding day with the cake? I hope so since today could be payback from long ago.
Props
Need party props to add some excitement? How about some leis for a Conga Line or Glow Necklaces to brighten up the evening. Check out our full line of party props to help brighten your affair.
Contact me today to get an exact price quote for your Anniversary or set up a non-obligation meeting to discuss your event in more detail. Prices do vary depending what is desired from our clients. We will provide you with an experienced professional entertainer (more that just a DJ), lights and a good time for all.
Let's Get Your Party Started
With your input and our talent it will sure to be a memorable event for you, your family and your guest.
SERVING:
Dutchess County, Fairfield County, Putnam County, Rockland County, Westchester County & Beyond.
FULLY INSURED
Proud member of N.A.M.E.