Animated Monograms
One of the latest trends to make your event stand out is "Monogram Projection". This provides the "WOW" factor when guests enter your event. With today's technology, it's easy to offer the latest and greatest in Digital Animation at any event. The projections are either still or animated. The animated Projection (moving image) adds a unique aspect and is the perfect way to add a custom, elegant design to your event that is stunning and eye catching. With our high-powered projectors mounted to a stand, which are usually elevated 6'-9', we can fill a blank wall space, dance floor, or ceiling area with these whimsical projections. The monograms are best projected on white, pale or light colored surfaces. Perfect for Weddings, Sweet 16's, Bar/Bat Mitzvahs, Holiday Parties or Seasonal-themed events.
Party Props & Light-Ups
Party props add excitement to any event and transform adults into kids and children into rock stars. We offer many different items to fit any budget. Packages range from $50.00, $100.00, $200.00 & $400.00 or choose your own ale carte style. All of our packages include Light-ups. We over several different colors of Beads to several different colors of Light-Ups. Party props & Light-ups are used to help the guests with interaction to get them out of their seats and enjoy your event. We stock all items listed plus much more. If you are looking for something that is not listed please let us know and we will get it for you. For example Light-Up drink glasses, Flashing shot glasses or Hula skirts. Be inventive and use your imagination. The ideas are endless.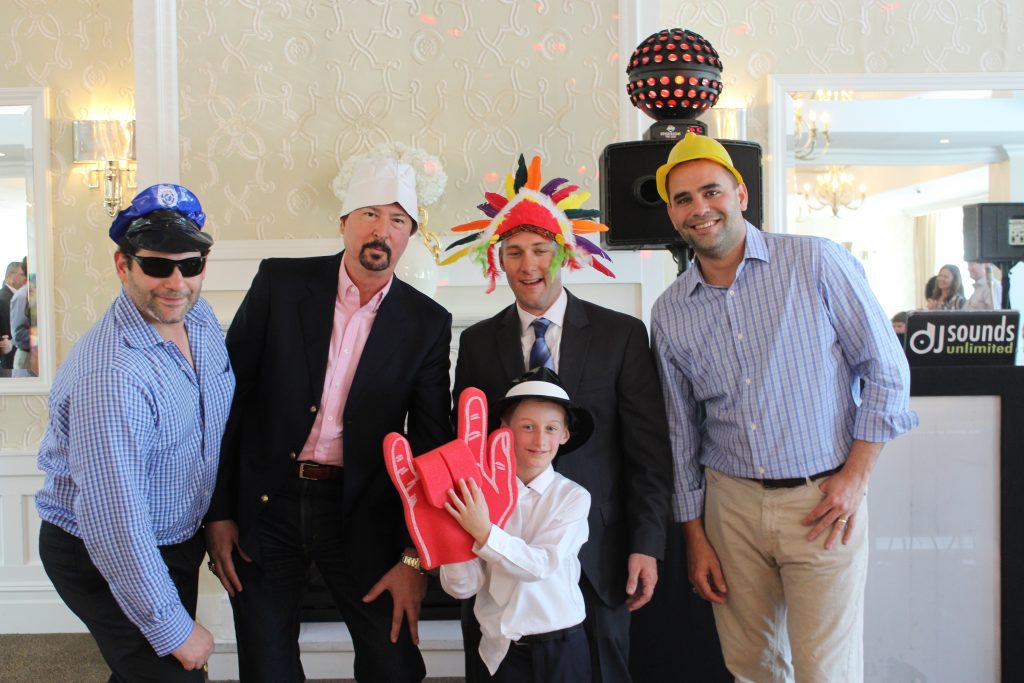 Karaoke
Who wants to sing like a rock star? Do you have talent or not? It does not matter since Karaoke is all about having fun. We offer over 10,000 songs!!!. Choose from Country to Rap or Frank Sinatra to LMFAO. Watch your guests turn into stars and see who's got talent. Karaoke is great to add to any event to give a great change of pace, keeps kids and adults entertained for hours. We offer four – (4) wireless microphones so singers can perform in groups and provide a 19" Flat Screen monitor so guests can see those handy words appear on the screen. If you're shy, sing with a friend. Once you do, it's hard to stop singing. So many great songs to choose from. Our Karaoke library is updated once a month and kept current with today's hits.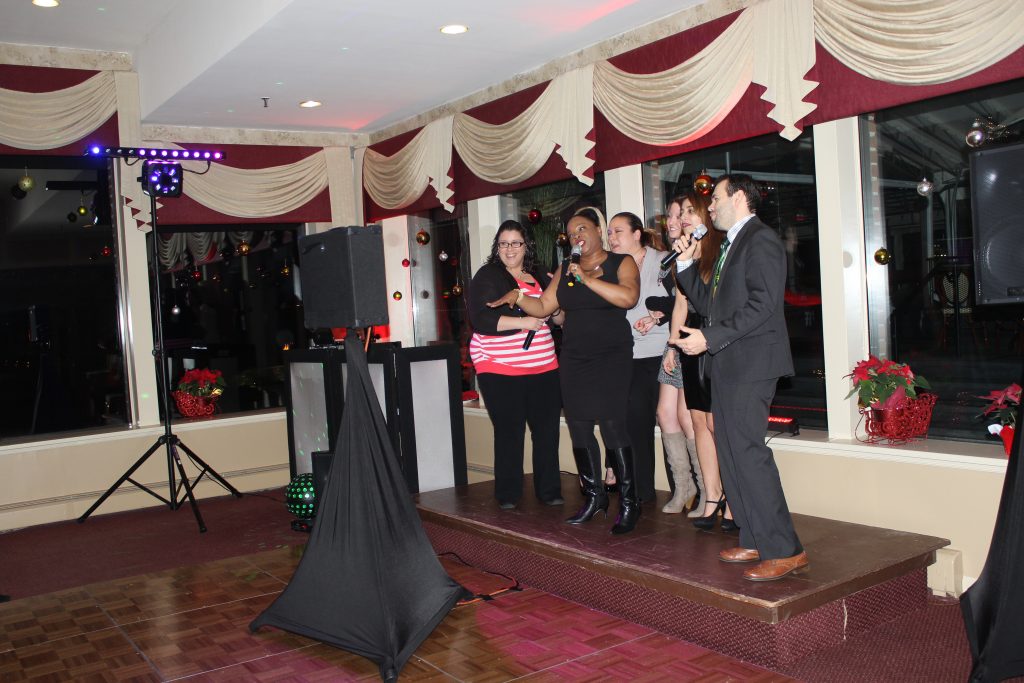 Outdoor Fun Package
Let's do games and contests with your friends, family or co-workers. This package includes supplies for great games and contests to keep an event moving. We will set up & coordinate classic games such as: tug-of-war, potato sack races, 3-legged races, egg and spoon race, adult sized hippity hops and more! Our event team will make sure the guests do more than just sit at your next event. Do other fun classic contests such as: Limbo, Hula-Hoop and the always entertaining EGG toss. If you have a great idea for a game let us know and we will get the needed supplies for you and that fun game. Games and contests are not just for kids. How about our exclusive Bubble Gum Obstacle Course. We will supply sign-up sheets and get things organized and moving. You supply the people and we will supply the fun.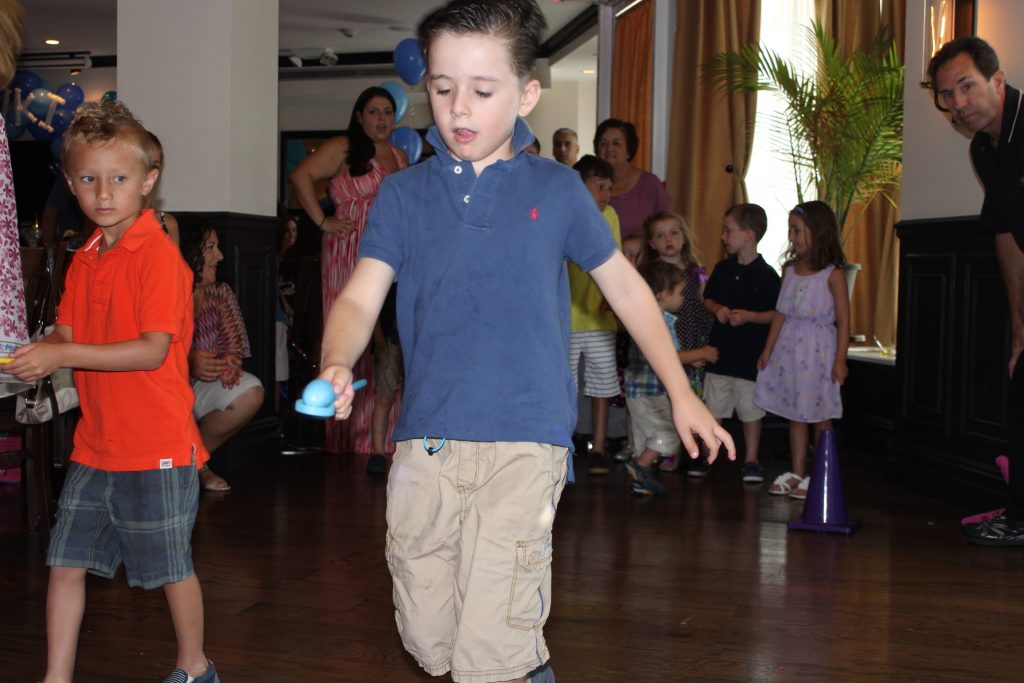 DJ & MC Team
Many parties need more than a single DJ at an event. With two- (2) professionals we are able to do more than just play music. You will be entertained! Let the MC be free from having to worry about the music and let him concentrate on your event. That means more fun with more interaction. Sometimes a great party needs more than just great music. Let the professionals lead the way in some popular group dances, show off their dance moves & coordinate activities. Help lead any special events and or ceremonies. Sometimes the key to a great party is the interaction of a great MC entertainer. The MC acts as an event coordinator as well and makes sure that all of the hired professionals are working together and are on the same page. This is very important at those once in a lifetime events.
Dancers
Monkey see, Monkey Do. That's what happens when you add dancers to the event. Let our Dance team get things started by dancing. When they are dancing and having a great time so will your guests. Let the dancers also help with games and contests and of course those group dances. Lean how to do some of those new fun dances such as: Cotton-Eyed Joe, Cupid Shuffle, the Wobble, Cha-Cha Slide and the Harlem Shake. As well as some of those classic dances such as: Electric Slide, Hands Up and the Hustle. Have younger kids? How about the Chicken Dance and Hockey Pokey. The dancers love to dance and it shows. How about some Break dancing too? Maybe the dancers can show you a few new moves or even better, you show them yours.
Wireless Up-Lighting
This is our most popular and dramatic upgrade we offer. With the use of our 18 High-End Up-lights you and your guest will be amazed with this Hi-tech lighting system. Not only can they do more than one- (1) color, they are wireless, Lithium-Ion powered and DMX controlled. This means NO wires needed. Each light consist of twelve- (12), 5 watt High-Output bulbs that produce red, green and blue colors. The lights are 5" X 5" cubes and are an elegant white. We are able to make 255 colors and can match just about any color scheme. The lights all sync to our wireless DMX controller and the magic begins. The lights can be programmed to Chase, Fade and even dance to the beat of the music. Changing colors is as simple as pushing a button. We rent these lights with a technician to operate the lighting system.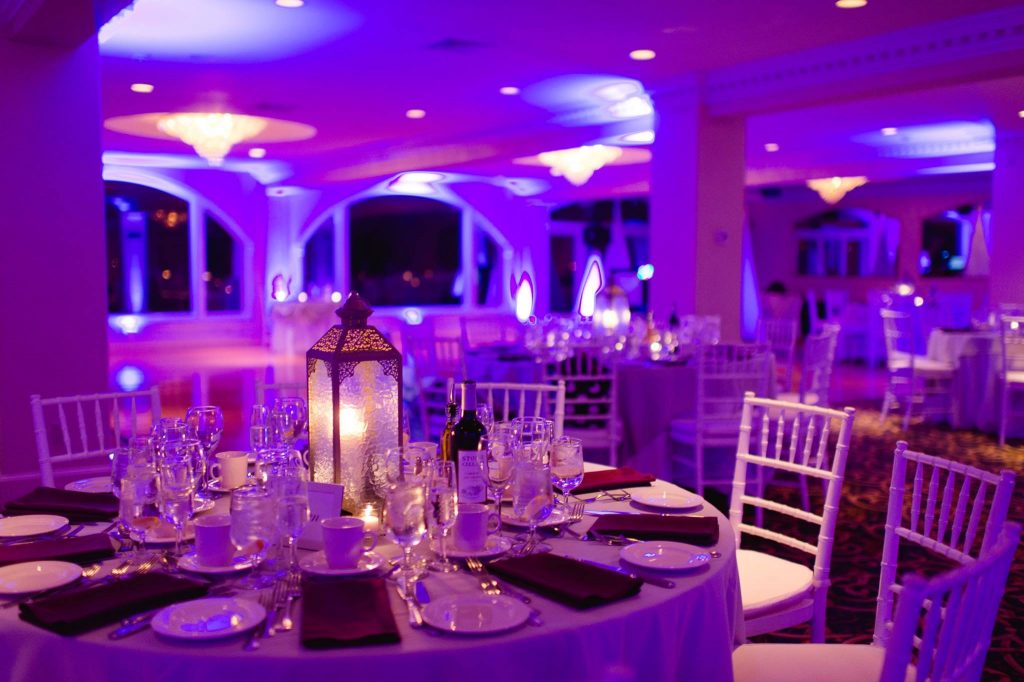 Flat Screen TV's
Let our HD LED TV's provide an exceptional video presentation at your next event and are perfect for photo montages. With this package you will take the event to the next level. Let us utilize our vast Video Music library to not only hear those great songs but to actually see them as well. Music videos and are very dramatic up on the screens as well. We can also put names on the TV or print anything that you like in a stylish way. We can also provide a live feed camera so all the guests feel like movie stars. The guests are always mesmerized when they see themselves dancing on the screens. We offer one – (1) or two- (2) TV's that are mounted 7' high so all the guests can see what is going on. We rent the TV's as well and will deliver them to any location and set them up for your needs.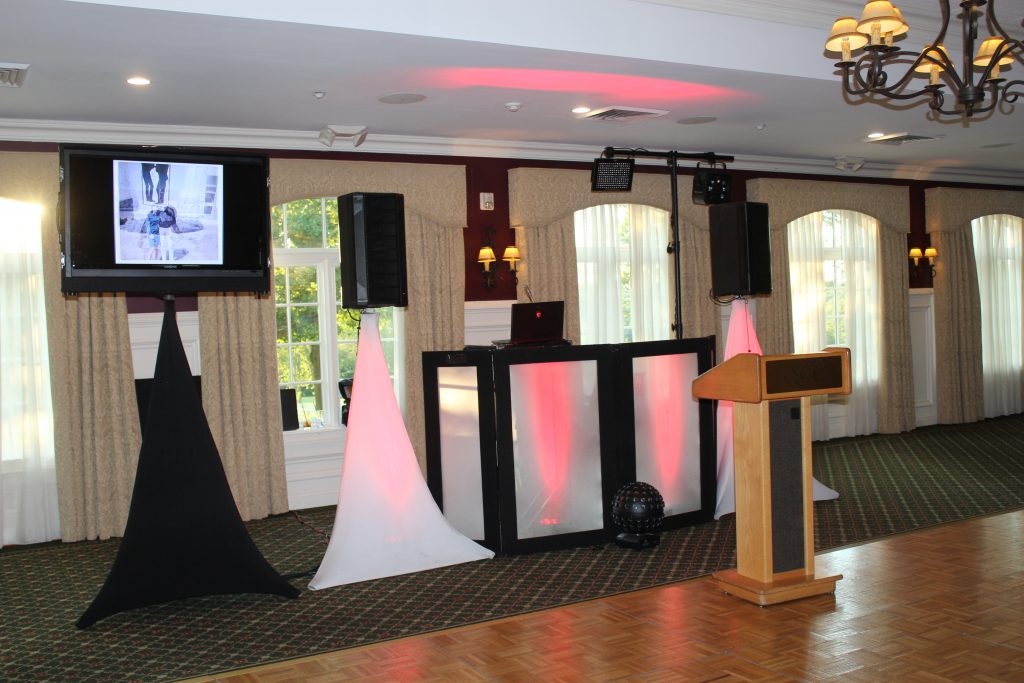 Photo Montages
This is a great way for you to show your guests special memories about yourself or someone else. We can make a beautiful photo story set to music and play it on the flat screens for everyone to enjoy. The photo montage usually consists of about 50 photographs and plays for about 7-10 minutes. You can then have a big movie screening at any point of the evening, your choice. Clients can email the photos to us or just send in the pictures on a disc or thumb-drive with the chosen photos for the montage. We can also scan original photographs as well. You can even make the montage yourself. Just provide us with the finished product one- (1) week prior to your event. The photo montage is always a crowd favorite. We can also play any provided photos during the night without making a formal montage.
Live Percussionist
Get the best of both worlds with the energy and feel of a band without the cost. The live drummer adds excitement and the guests respond great to this upgrade. A good band costs around $5,000.00, with this option you get the best of both for less than half the price. The guests and drummers always feed off of each other and when the drummer needs a break the entertainment never stops since the DJ is in high gear. The percussionist beats along with the music to give that live music vibe that some clients just love. Why not even let the Bride, Groom or client give it a whirl for some extra excitement as well as a great photo opportunity. This upgrade is always well received and money well spent to add to any event to put thing in high gear.
Photo Booth
Let the guests let loose and have something to keep forever to remember your event with a photo(s). The photo booth gives option such as open air, back drops which can be customized or an enclosed booth for privacy. The booths are flexible for either standing or sitting and choose from 4X6, 2X6photos, Green Screen or Flip-Book. We utilize at 18 megapixel camera for crisp clear pictures and match it with a professional Mitsubishi sublimation printer that produces 2 photo strips every 7 seconds. You can have anything printed on the photo footer as well such as your names, date of event or add a special logo or photo and choose from various layouts or overlays. We offer party fun & unique props and watch the guests have fun and have entertaining photos. The most popular upgrade is a Recollections Book. Now your guests will place a copy of their photo and sign the book with a brief message and is yours to keep forever. Add the Video upgrade and let the guest share their thoughts in an intimate or humorous way. We also offer various frames for the photos to keep them protected.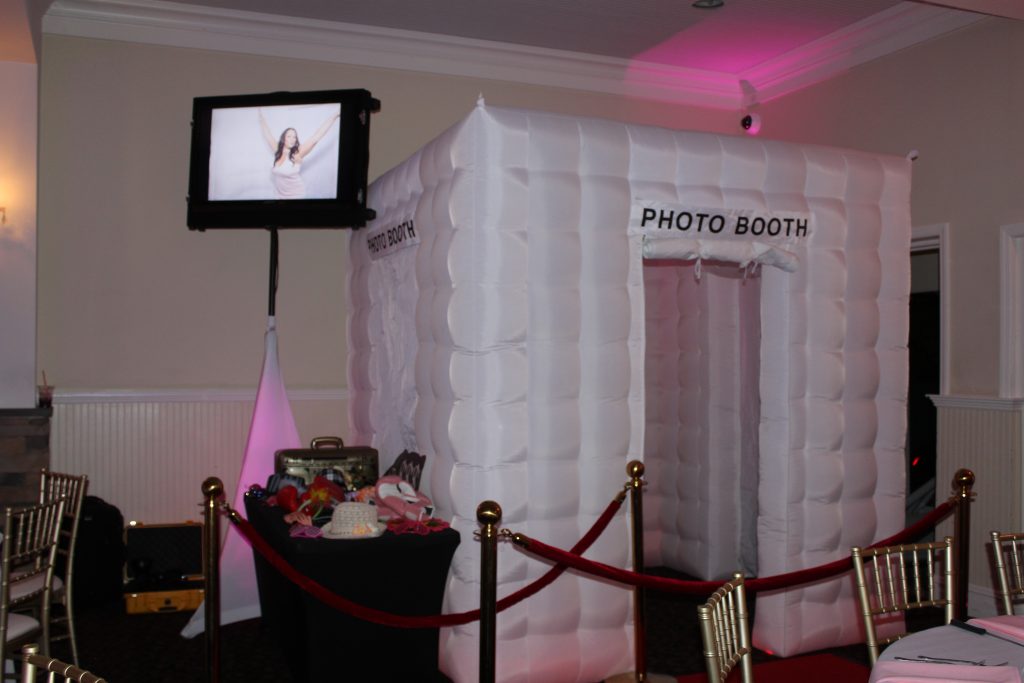 10 Foot Video Screen & Projector
This adds a BIG screen to your event and is very dramatic. We use a commercial grade Hitachi projector with 3,500 Lummas. This high-output projector is perfect for daytime viewing. It projects in full HD and can be utilized for various options such as showing a photo montage, music videos, live camera or Zap photos. The screen is light weight and easy to set up and move. The screen in capable of front or rear projection. The Hitachi projector also has a built in 16 watt speaker and is perfect for small presentations. For larger events we plug the projector into a PA system so everything can be heard clearly. The projector can also me mounted and elevated as high as 12'. The projector is also used to project crisp clear images for "Names in Lights" images on the dance floor or on the walls to give your event that extra special feel.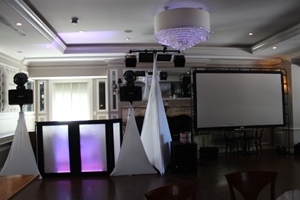 Zapp Photography
Is a popular feature to add to events. Here we come with our own photographer that will take pictures during the event and then the pictures soon after Zap up to the Flat Screens TV's. The photographer would take candid and formal shots of your guests during the event. If your wedding ceremony is in the same location we would photograph the ceremony and then the guests would walk into the formal reception viewing the newly-weds from moments earlier. Clients would receive copies of all photos taken at the event as well.