If You Need Music Or Just A PA At Any Event We Can Do It!!!!!
Proms, Communions, Christenings, Schools, Fund Raisers, Nite Clubs, Karaoke & Rentals. We've performed at thousands of events in our career and each party is different from each other. We'll take my time to go over all details of each and every event to ensure that everything is taken care of.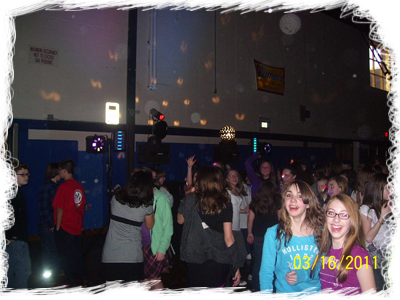 Proms and school dances
Proms, Semi-Formals, or Winter Balls are a very important night for those young adults. From picking that perfect dress or tuxedo to getting the hair done, it is a special day. Then it's time to get a hip DJ to rock the house with an excellent sound system and current music. Here is where we make the room go BOOM!. These events are typically very large so I bring in the heavy hitters in speakers for this one. Our basic set up is a four-speaker 3,300-watt system but for larger events we can add more speakers so the place sounds and feels like a club. We call that the BIG KAHUNA set up. We do events for over 1,000 people often and the DJ Company better be able to deliver on a qualified sound system to pump up that event. We will also bring our deluxe light show to fill the room with color. Most proms will have their prom song played towards the end of the event and usually will have some sort of request list for the entertainer. Need a wireless mic for announcing the King and Queen? No problem. I take the time to talk with any committee members and go over all details of PROM NIGHT.

Communions, Christenings and 1st Birthdays are a lot of fun. I love kids and it shows in these types of events. The kids are so excited about even having a DJ at their event. There are not many formalities at these parties. Maybe a Grand Entrance, Toast or even a special dance with Mom or Dad. Then let the games begin to keep the kids active and busy. From the Mummy wrap to the Scavenger Hunt the kids will be entertained and most of all kept busy. Let's get the God Parents to perform the YMCA or how about let the kids take on the adults in the crazy game known as Hoop Through. I'll make sure the event is fun for all. The kids also love to dance and show off those moves to their favorite songs. So let me know in advance what those songs are and let the party begin. Don't forget to get those special pictures of the cake with special family members before the end of the event. Let's talk about how I can help make your event special.
From Elementary to High School!
School Dances are important social events for kids and teenagers. We do events for all ages from elementary school family nights to High School Home Comings and are fully insured. Here it is important that the DJ has a good sound system to fill that big gym or cafeteria and has all of the current music, I excel in both. All music that we carry is radio edits only so inappropriate language is not a problem. Elementary School events are a more G rated event with more games and contests put into the mix since they do not have the patience for 2 to 3 hours of straight dancing. Middle Schools and High Schools are where the emphasis is on the music that is played. We will come to your school and play all the hot hits of today and fun songs for all. Lets do the Cha-Cha Slide or Cupid Shuffle to keep things flowing. Then make some requests since I'm always open to any ideas and lets see who can dance. Lets make it a party and feel that bass move you, raise that roof and let the lights transform your school into a club. Did you know that it is a law that any vendors that work in public schools have liability insurance? Would the school ever hire a painter or electrician if they were not real business and did not have liability insurance? No. Don't worry we've got you covered and have been insured for over 10 years. Contact our office about multi-dance discounts when you book your schools events for the entire year or our weekday discounts for dances from Monday – Thursday.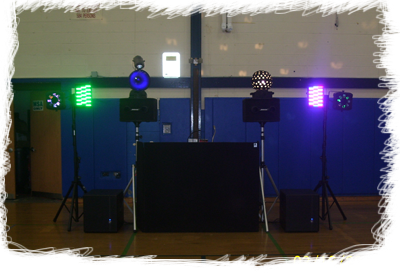 Fund Raisers and Non Profit Organizations hold many events all for a good reasons. We do over discounts and still come with the same professional set up and high energy expected. Need a mic for some speeches? No problem. Let's work as a team and raise money but keep your guests happy. We've worked with many different organizations to help raise money. Contact our office and let's see what we can do for you.
Nite Clubs and Bars
Nite Clubs or Bars are always in need of quality and experienced DJ/Karaoke entertainment to keep the customers coming back. Whether you need entertainment on a weekly, monthly or occasional basis we've got you covered with the most experienced Jocks. We will work with each establishment and work within the given guidelines to make the entertainment a success. Maybe you're trying to spice up that weekday night or just entertaining on the weekends, no problem. Ask about our Nite Club and Bar installs of great sounding systems, lighting as well as visual needs. Once you contract our DJ's we can even set up temporary install of sound and lighting with no cost to you. This is a one of a kind service that no other entertainment company can compete with. Contact our office to discuss these great plans and lets build your business together.
Karakoke
Karaoke is a lot of fun and addictive for others. We offer Karaoke for an add on to any of our DJ party packages to add that special touch or just do a straight Karaoke show. We offer up to three microphones for group singing or sing solo and become the next American Idol. Songs are from the oldies to contemporary and include everything in the middle along with children's favorites like Hannah Montana (Miley Cyrus), Jonas Brothers, Taylor Swift and even the ABC song for the very young ones. What about rentals? We do that. The systems are easy to operate and affordable. Contact our office for more details about Karaoke at your next event.

Rentals are a growing trend. What do we rent? Great DJ equipment for an affordable price. From those giant bass bin speakers to complete DJ and Karaoke systems for those weekend warriors. We work with many other DJ's who just don't have all the equipment for those big events. Powerful and dependable amps to powerful lighting. Contact our office and see what we can do together to reach your goals.
PA Systems are always needed. We do that as well and have provided PA systems for local events such as ground breaking and opening ceremonies for the Camarda Care Center at Putnam Hospital to public appearances for Senator Chuck Schumer. We will supply the great sound for all attending to hear. Choose from our great wired or wireless microphones to even a lapel wireless for your event or a combination. System sizes do vary depending on people attending as well as the location. We can supply two to ten speakers depending on the size of the event and venue. Contact our office about our great sounding PA systems.
WE OFFER MORE FOR LESS
We will bring our experience, professionalism, high energy and excellent sound system to your event and even include an LED light show. We offer competitive pricing so come on and experience the difference of a true entertainer.
Need party props to add some excitement? How about some inflatable guitars to become a rock star or flashing rings for all the Single Ladies – We'll put a ring on it. Our novelty list is always changing and we can supply anything! I keep everything in stock so don't worry about last minute add-ons. I've got you covered. With your imagination and my expertise we can make this a very memorable event. Check out our full line of Novelty Props to help brighten your affair.
Contact me today to get an exact price quote for your event or set up a non-obligation meeting to discuss your event in more detail. Prices do vary depending what is desired from our clients. That includes an experienced professional entertainer (more that just a DJ), lights and a good time for all.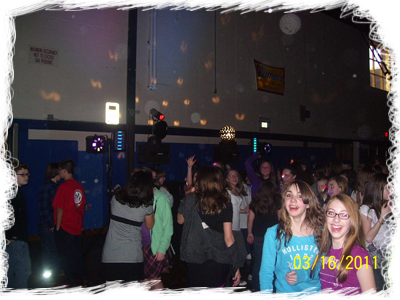 Let's Get Your Party Started
With your input and my talent it will sure to be a memorable event for you, your family and your guest.
SERVING:
Dutchess County, Fairfield County, Putnam County, Rockland County, Westchester County & Beyond. FULLY INSURED. Proud member of N.A.M.E.